You have just stumbled upon the Official Web Site of the :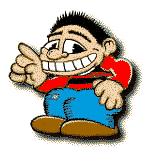 | | | |
| --- | --- | --- |
| "King of the Waves" | "The Rock that doesn't Roll" | "King of the Ramp" |

20 years ago we used to pass out this tracks on the streets. They were 4" x 4" little pamphlets containing the gospel. The bright 4 color process printing on the cover made them easy to hand out. 90% of the time the people will say "thank you" and will not throw them down, littering the streets.

Jesus preached, so can you! The Gospel with Good Humor Works. We passed out thousands of these. Thanks for visiting this page! God Bless you! Jesus loves you!
This page dedicated to "Champ" the famous dog © (1980-1996).
Even though he ain' t around : "Champ Lives!!"
All rights reserved © clip art freely omitted in most states of mine.
Just smile God loves you. Tracs written by Dave Rickard